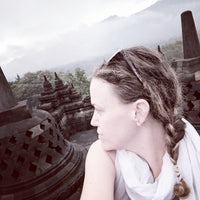 I wanted to go back to the beginning, to the conception of the brand. I want to introduce to you our artisans, one by one, and tell you a bit about the storys each one holds and how we met.
Let's start with Arie.
Arie is a mom of a young boy and the sole breadwinner in her family, in Indonesia. She works as an accountant for a fashion company based there. She has a side job where she has her own private labeled merchandise, but it's only in one store. I stumbled upon her work quite randomly on a walk through the only shop who sold her goods and decided I loved her style and I should reach out to the contact info she had on her garment tags. Upon meeting she told me how I was the first large offer for an account to produce a line that she had ever received. She had done small jobs here and there, a few custom pieces from people contacting her from her tags, as I did, but nothing large. She seemed excited, but that she was holding it in as to not seem too excited.
I had mentioned to her that I had personally sourced meter upon meter of material in different fabrics and motifs and if it was okay with her, could I ship it to her. 
It was enough to fill an entire office. I'm sure she was overwhelmed. When she first saw it the look on her face was awe. She knew she had her hands full.
We arranged a meeting at her home, where she kept a small work area in one room off to the side. It was a blaring 90 degree farenheit, albeit dark outside, as it was evening. Without air conditioning, which is rare in this part of the world in private homes, we went on to lay out every single piece of material, every ribbon and finding, every tassel. We began designing a line together. I actually experienced deja vu. It felt like kismet. It was met to be. She was going to make my dream a reality. I could finally have the creative baby I yearned for. And she was going to have enough funds after the project to buy a new home for her family; a win/win!
As I visited her for fittings throughout the design process, I could see her hand sewn label project to the side of her desk. She had a stack of hundreds of All Points East labels, and was in the midst of hand stitching each and every one to each garment she touched. I realized I was dealing with an extremely detailed and determined woman, so creative, so professional, and so determined to take on any task given. I'm pretty sure it would be hard to find someone like that in the US, or let alone anywhere. I knew I had lucked out.
As the line came into fruition, I started to see the colors, the patterns, the styles of each garment take shape into a beautiful line of resortwear. Soft cotton cover-ups, embroidered eyelets, loose comfortable maxi dresses. 
She continues to help in anyway she can. Sourcing, marketing connections, and creative advice. We are more than happy to have you, Arie!